Charles Town Municipal Website

Who They Are
The City of Charles Town is located on the Eastern Panhandle of West Virginia. As a fast-growing community, the City website is an all-inclusive hub for residents, businesses, and visitors to access information.
The Challenge
The City of Charles Town desired a more modern and accessible website design to enhance user experience. The site was cluttered with excess pages and out-of-date information. The extremely deep levels of navigation, made finding information difficult and confusing. The site's user interface lacked functionality and accessibility on mobile devices, which resulted in the loss of user retention. The administrative staff required a platform where they could have multiple members update different parts of the site while being empowered as a on-technical user.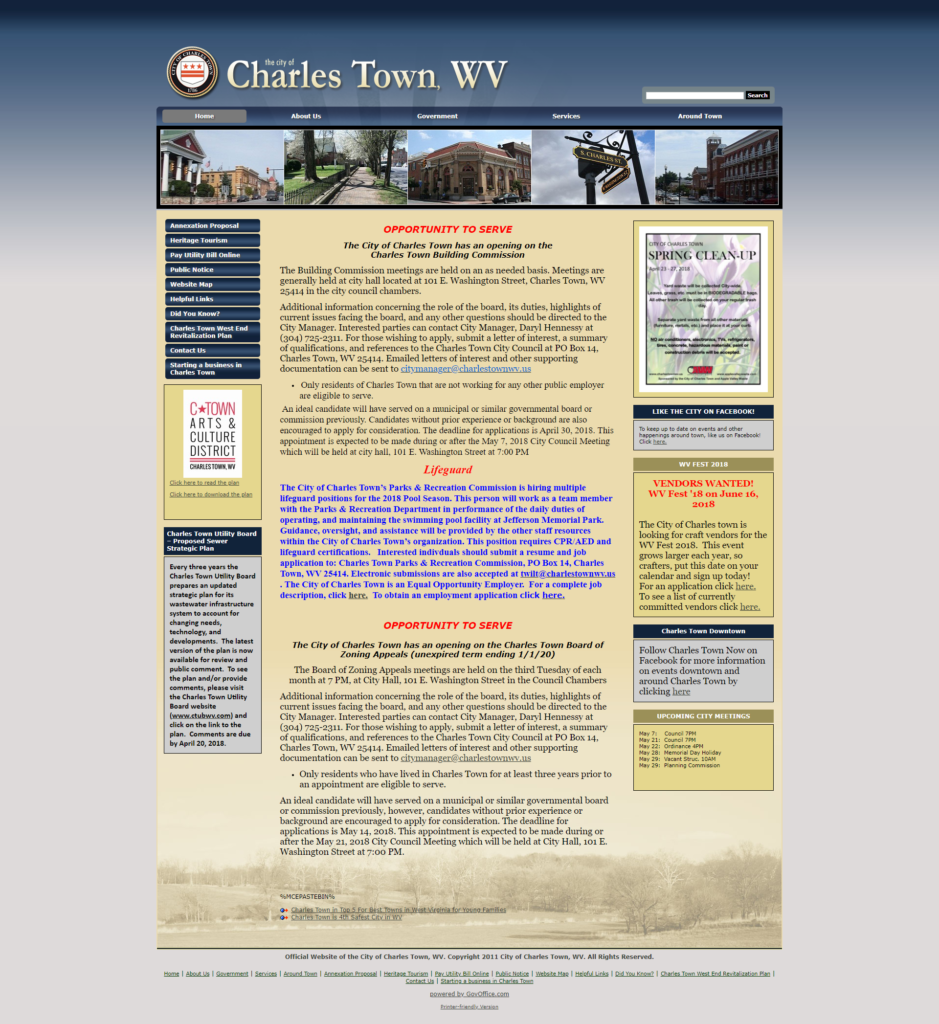 The Solution
Our team collaborated with the City staff to redesign the page hierarchy, content layout, and navigation. We also identified unnecessary features and reduced content bloat to create a more streamlined user experience. The new site layout functions on both desktop and mobile devices and follows WCAG 2.0 accessibility compliance standards. to provide much needed accessibility. There were several automated functions implemented for the reduction of manual work required for site maintenance and updating. The Content Management System provides site administrators specific roles and permissions to enable.
The Results
The newly redesigned City of Charles Town website has enhanced functionality with both desktop and mobile responsiveness. User experience has been enhanced with a fresh and cohesive style. Condensing the pages and updating the navigation streamlines information to all users. The administrators, regardless of their technical ability, now have confidence in managing and updating the site without hesitation. This provides all users with accurate, easy to find, and frequently updated website information.